VILLA DEVELOPMENTS IN OKOTOKS:
Cimarron Estates Green, in Cimarron Estates, Okotoks
Now these are fantastic Villa-Style Bungalows, with many units backing toward the Sheep River! Built 2007-2010. These are very nicely maintained, not as condos, but under a Home Owner Assocation, keeping the monthly fees very reasonable, and the surroundings very beautiful. Sizes range from 1160-1605 sq.ft. Paved pathways from these villas will take you all over the town of Okotoks if you want a good walk or bike ride. Units have high vaulted ceiling inside, making the home feel larger and allowing for larger back windows for tons of natural lighting.
Price Range: $550,000-$670,000.
Crystal Green Rise, in Crystal Green, Okotoks
Built 2006-2012, each of these units comes with a double garage and backs on the golf course. This is very rare among villas, backing onto a 9-hole golf course, and in a lake community! These are not condos, but have low monthly HOA fees for snow and lawn maintenance. There is an annual fee of $263 to the lake association, giving you, and your guests, access for boating, fishing, skating, and swimming. This is a man-made lake, which is very nicely maintained. The bungalow units range in size from 1210-1320 sq.ft. on the main level. Some of the units have some additional development over the garage, increasing their square footage to around 1800 sq.ft. plus basement.
Price Range: $550,000-$675,000.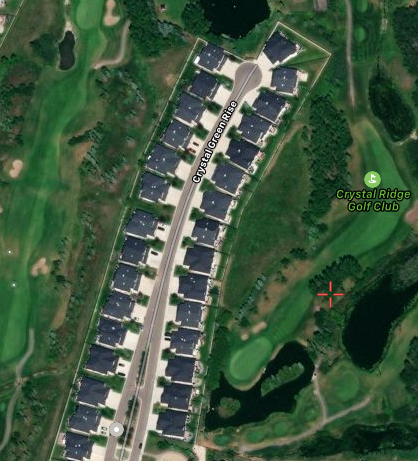 Rowland Lane, in the Air Ranch, Okotoks
Welcome to the 'Air Ranch' in Okotoks. Located close to Okotoks Air Ranch Airport, this development has units backing onto tranquil ponds and greenspace which serve as a natural bird habitat, and a stopping point for some of Okotoks' many deer. Bare land condos, built in 2003-2004. All units are bungalow with double garages, and nice exterior timber detailing at the front of each villa. Sizes: From 990-1510 sq.ft.
Price Range: $550,000-$615,000. See photos below.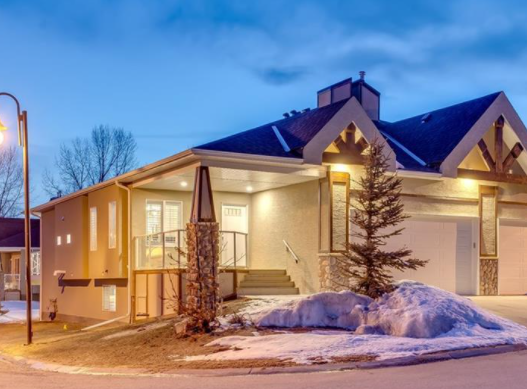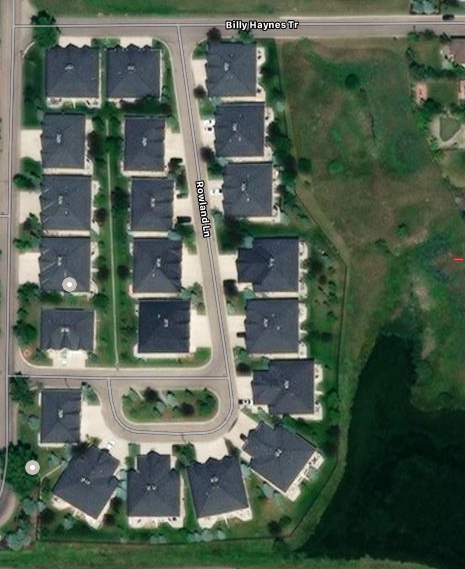 Crystalridge Terrace and View, in Crystalridge, Okotoks
Villa-style bungalows ranging from 1020-1570 sq.ft., and built between 2000 and 2007. Owner-maintained- no fees related to property maintenance. Exactly the same lake privileges and annual lake fee as the golf course villas. Some of these units back onto a ravine and some have spectacular mountain views.
Price Range: $420,000-$520,000.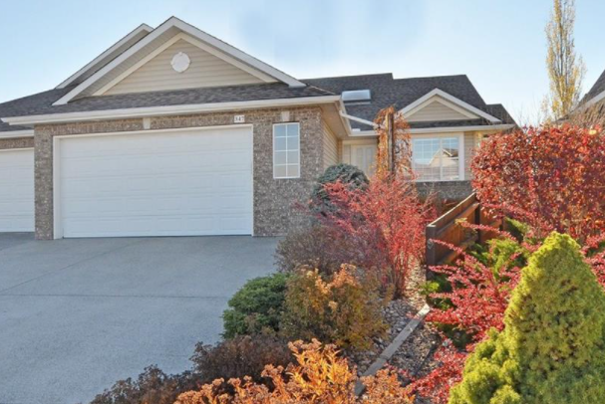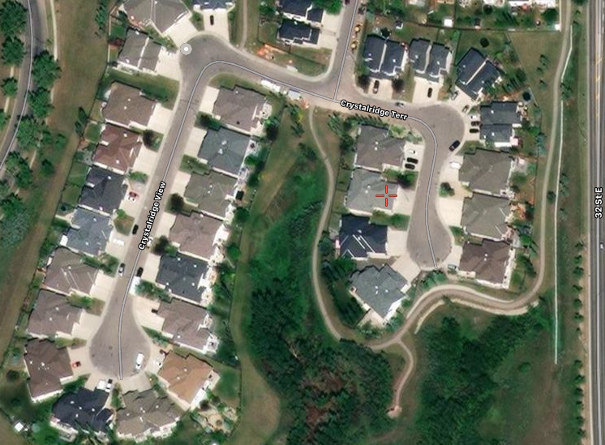 105 Elm Place in Okotoks
Built in 1192-1994. What a lovely villa-style bungalow development, close to all the quaint coffee shops and boutiques in the centre of town. Sizes are between 960-1035 sq.ft. with a mix of single or double attached garages. The 'Park Haven Villas' are bare land condos. Age-restriction: 45+.
Price Range: $315,000-$415,000.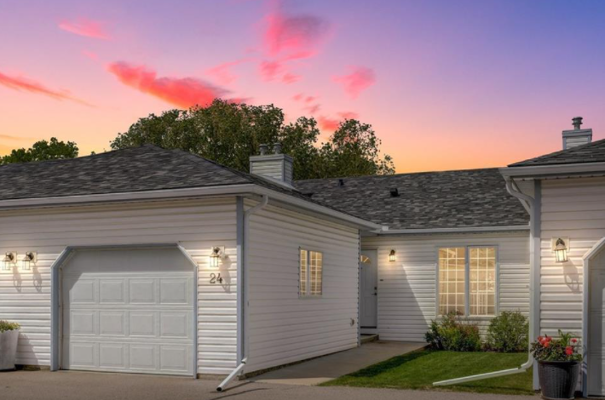 Sandstone Court (and Sandstone Drive and Sandstone Ridge Crescent), Okotoks
No condo fees. No HOA fees. Years built: 1993-1999. Sizes: 920-1375 sq.ft. Walking distance to grocery shopping and very close to Tudor Manor.
Price Range: $380,000-$520,000.
Sheep River View, in Sheep River, Okotoks
These villas are semi-detached bare land condos built in 2007-2008, by the same builder as Cimarron Estates Green. They literally have greenspaces all around them. Beautiful views in all directions as this little pocket of villas is located on the crest of a little hill, in a wonderfully quiet location. Sizes are 1270-1440 sq.ft.
Price Range: $520,000-$625,000.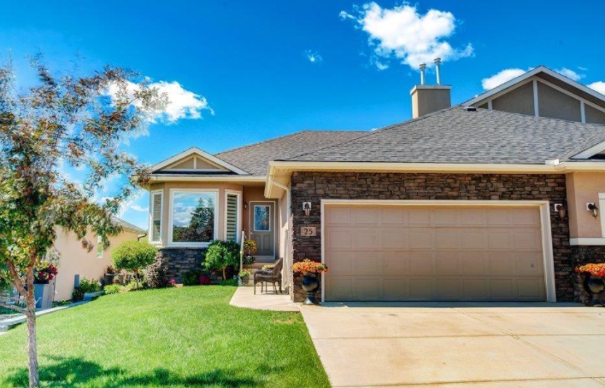 100 Sheep River Drive, Okotoks
Removed from the main Drive on a low-traffic off-shoot. Walk-out basements. Good-sized units, between 1440 and 1595 sq.ft. Beautiful views. Exteriors have been updated. Age-requirement is 55+. The pathway that you can see in the satellite photo run along the river for the full east-west width of the Town of Okotoks.
Price Range: $550,000-$690,000.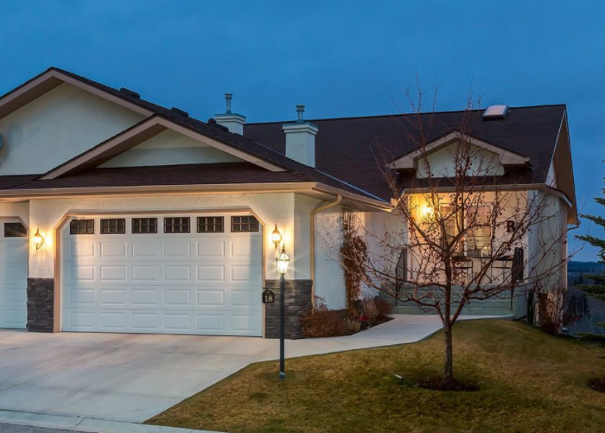 Sheep River Mews, in Sheep River, Okotoks
Built in 1997-1998. Units have 970-1280 sq.ft. on the main level. This is a quiet cul-de-sac location. These are not condos and the HOA maintenance fee is about the lowest you will find anywhere in the towns surrounding Calgary. No age-restriction. Most units have a finished basement.
Price Range: $400,000-$440,000. See photos below.